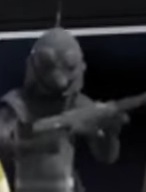 Azmorigan Henchmen were a group of unknown species hired as guards for the crime lord - Azmorigan.
Some of the Guards were on Azmorigan's ship when Lando traded Hera Syndulla for a Puffer Pig. Hera later escapes but the Thugs faced the group again with their master on Lothal. Lando and the Rebels win.
When Ezra Bridger and Hondo Ohnaka attempt to trade with Azmorigan, the guards fight when Chopper arrives to save them. They are all mostly taken out but Azmorigan escapes.
Appearances
Edit