More to add, have you?

It is requested that this article/section of an article be expanded. Once the article contains more information, this template will be removed.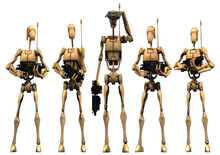 The B1 Battle droid was a droid soldier and main Battle Droid of first the Trade Federation and then later, the Confederacy of Independent Systems during the Clone Wars. They were created by the Geonosians and made in their image. After the Clone Wars, several B1 battle droids were seen in usage in Kalani's Separatist Holdout on Agamar, and would later briefly aid the rebellion in fighting the Galactic Empire on Agamar during the Rebellion against the Galactic Empire. One B1 unit by the name of Mister Bones continued to stay active up until the final years of the Galactic Civil War, during which Bones fought as a member of the New Republic's military.
Appearances
Edit
Star Wars: Episode I The Phantom Menace (First appearance)
Star Wars Journeys: The Phantom Menace
Jedi of the Republic—Mace Windu, Part I
Jedi of the Republic—Mace Windu, Part II
Jedi of the Republic—Mace Windu, Part III
Jedi of the Republic—Mace Windu, Part IV
Jedi of the Republic—Mace Windu, Part V
Star Wars: Galactic Defense (First identified as B1 battle droid)
Cat and Mouse
The Hidden Enemy
Supply Lines
Ambush
Rising Malevolence
Shadow of Malevolence
Destroy Malevolence
Rookies
Downfall of a Droid
Duel of the Droids
Bombad Jedi
Dooku Captured
Jedi Crash
Defenders of Peace
Trespass (Remains)
Sphere of Influence
Blue Shadow Virus
Mystery of a Thousand Moons
Storm Over Ryloth
Innocents of Ryloth
Liberty on Ryloth
The Zillo Beast
The Zillo Beast Strikes Back (Appears in flashback(s))
Holocron Heist
Cargo of Doom
Senate Spy
Landing at Point Rain
Weapons Factory
Legacy of Terror
Grievous Intrigue
The Deserter
Voyage of Temptation
Duchess of Mandalore
ARC Troopers
Heroes on Both Sides
Nightsisters
Monster
Witches of the Mist
The Citadel
Counterattack
Citadel Rescue
Padawan Lost
Water War
Gungan Attack
Prisoners
Shadow Warrior
Nomad Droids
Plan of Dissent
Kidnapped
Slaves of the Republic (Appears in flashback(s))
Escape from Kadavo
A Friend in Need
Massacre
Brothers
A War on Two Fronts
Front Runners
The Soft War
Tipping Points
Bound for Rescue
A Necessary Bond
Secret Weapons
Missing in Action
Point of No Return
The Unknown
Conspiracy (Appears in flashback(s))
Orders (Appears in flashback(s))
The Rise of Clovis
Crisis at the Heart
Voices (Appears in flashback(s))
Sacrifice
Dark Disciple
Star Wars: Darth Maul—Son of Dathomir 1
Star Wars: Darth Maul—Son of Dathomir 2
Star Wars: Darth Maul—Son of Dathomir 4
Star Wars: Kanan
Tarkin
The Last Battle
Visions and Voices (Head only)
Star Wars: Darth Vader 4: Vader, Part IV
Aftermath
Aftermath: Life Debt
Aftermath:Empire's End
Star Wars Special: C-3PO 1: The Phantom Limb (Indirect mention only)
Poe Dameron 13: The Gathering Storm, Part VI (Mentioned only)