Noooooooooo!

This article contains Spoilers from recently released or upcoming media.
More to add, have you?

It is requested that this article/section of an article be expanded. Once the article contains more information, this template will be removed.
Black One
was one of the
T-70 X-wing starfighters
used by
Poe Dameron
of the
Resistance
as the leader of
Black Squadron
and then later leading both
Red
and
Blue squadrons
at the
Assault on Starkiller Base
. Poe used the ship to destroy the thermal oscilator of
Starkiller Base
which would lead to the destruction of the entire planet.
BB-8
could fit into the Astromech Slot on the fighter.
Black One
had black markings as well as orange streaks.
Poe Dameron used the X-wing during many missions with Black Squadron for the Resistance while having trouble with Captain Phasma, Agent Terex, Grakkus the Hutt and others.
Poe took a different X-wing to Jakku when he met with Lor San Tekka to get the map to the location of Luke Skywalker off him for General Leia Organa. That X-wing was destroyed and Poe used Black One during the Battle on Takodana, saving the lives of Han Solo, Chewbacca, Finn and recovering the map from BB-8 which had been given to the droid on Jakku before Dameron's capture.
Poe led the Assault on Starkiller Base in the cockpit of Black One with BB-8 as his co-pilot. Entering the thermal oscilator with the help of Han Solo and his team inside, he blew up the entire planet.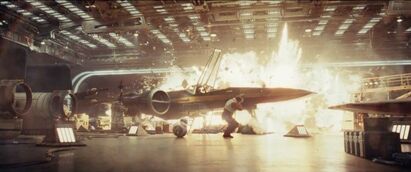 The X-wing was destroyed sometime after the Assault on Starkiller Base by First Order forces when Poe Dameron and BB-8 couldn't reach it in time.
Appearances
Edit