Help me Obi-Wan Kenobi, You're my only hope!

This Article is in need of serious expanding. Once the state of this article is acceptable, replace this template with Template:Expand.
Sorry about the mess

This article/secion is a mess! Please clean up this article before removing this template.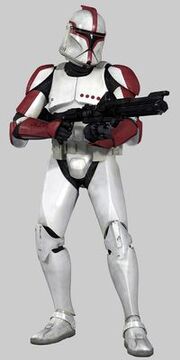 Clone Trooper Captains were Clone Troopers in the Grand Army of the Republic with the rank of Captain during the Clone Wars.
Appearances
Edit
Star Wars: Episode II Attack of the Clones (First appearance)
Star Wars Journeys: Beginnings
The Hidden Enemy 
Star Wars: The Clone Wars (film)
Rookies
Downfall of a Droid
Duel of the Droids
Dooku Captured
Jedi Crash
Defenders of Peace
Trespass
Blue Shadow Virus
Mystery of a Thousand Moons
Storm Over Ryloth
Holocron Heist
Cargo of Doom
Children of the Force
The Zillo Beast
The Zillo Beast Strikes Back
Landing at Point Rain
Weapons Factory
Legacy of Terror
Brain Invaders
Grievous Intrigue
The Deserter
The Mandalore Plot
Voyage of Temptation
ARC Troopers
Sphere of Influence
The Academy
Assassin
Overlords
Ghosts of Mortis
The Citadel
Counterattack
Citadel Rescue
Padawan Lost
Water War
Darkness on Umbara
The General
Plan of Dissent
Carnage of Krell
Kidnapped
Slaves of the Republic
Escape from Kadavo
Friends and Enemies
A War on Two Fronts
Front Runners
Sabotage
The Jedi Who Knew Too Much
To Catch a Jedi
The Unknown
Conspiracy
Orders
Crisis at the Heart
Sacrifice (Vision to Yoda)
Dark Disciple (First identified as clone trooper captain)
Star Wars: Kanan: The Last Padawan 1
Star Wars: Kanan: The Last Padawan 2
Star Wars: Kanan: The Last Padawan 4
Star Wars: Kanan: The Last Padawan 5
Ad blocker interference detected!
Wikia is a free-to-use site that makes money from advertising. We have a modified experience for viewers using ad blockers

Wikia is not accessible if you've made further modifications. Remove the custom ad blocker rule(s) and the page will load as expected.