Help me Obi-Wan Kenobi, You're my only hope!

This Article is in need of serious expanding. Once the state of this article is acceptable, replace this template with Template:Expand.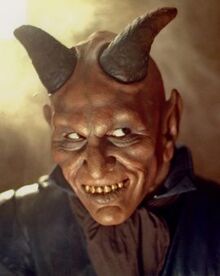 Devaronians were a sentient species native to Devaron.
Information
Edit
Type: Sentient
Classification: Humanoid
Homeworld: Devaron
Notable Devaronians
Edit
Appearances
Edit
Star Wars: Kanan 8: First Blood, Part II: The Towers of the Temple
Star Wars: Kanan 9: First Blood, Part III: The Canyons of Kardo
Star Wars: Kanan 1: The Last Padawan, Part I: Fight
Star Wars: Kanan 4: The Last Padawan, Part IV: Catch
Star Wars: Kanan 5: The Last Padawan, Part V: Release
Tarkin
A New Dawn
HoloNet News Report: Imperial Registration Program (link) (Appears in hologram)
The Rebellion Begins
Droids in Distress book
Droids in Distress
"Rebel Bluff"—Star Wars Insider 158
Rebel Resolve
Brothers of the Broken Horn
Heir to the Jedi
The Weapon of a Jedi: A Luke Skywalker Adventure
Star Wars 12: Showdown on the Smuggler's Moon, Part V
Star Wars: Commander
Before the Awakening
Ad blocker interference detected!
Wikia is a free-to-use site that makes money from advertising. We have a modified experience for viewers using ad blockers

Wikia is not accessible if you've made further modifications. Remove the custom ad blocker rule(s) and the page will load as expected.