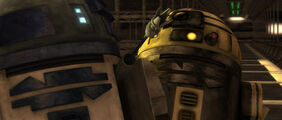 Duel of the Droids is the Seventh Episode of Star Wars the Clone Wars Season 1 and picks up the storyline from the previous episode - Downfall of a Droid. In this episode, R2-D2 returns and R3-S6 is revealed a spy of General Grievous.
More to add, have you?

It is requested that this article/section of an article be expanded. Once the article contains more information, this template will be removed.
Ad blocker interference detected!
Wikia is a free-to-use site that makes money from advertising. We have a modified experience for viewers using ad blockers

Wikia is not accessible if you've made further modifications. Remove the custom ad blocker rule(s) and the page will load as expected.