More to add, have you?

It is requested that this article/section of an article be expanded. Once the article contains more information, this template will be removed.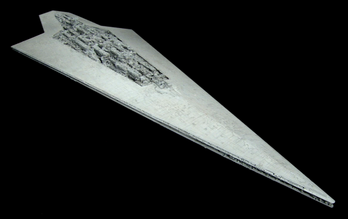 The
Executor-class Star Dreadnought
or
Super Star Destroyer
was a class of large
command ships
of the
Galactic Empire
.
There were thirteen Super Star Destroyers created by the Empire. These vessels were much larger than the normal Star Destroyer classes, as well as the Imperial battlecruiser Pride of Tarlandia. The Sith Lord Darth Vader commanded one of these ships - The Executor. Other known Super Star Destroyers were the Annihilator, commanded by Grand General Cassio Tagge, the Ravager, commanded by Admiral Rae Sloane, the Eclipse, Emperor Palpatine's command ship, the Arbitrator, destroyed while attempting to flee the New Republic and a vessel that was captured by the New Republic over Kuat.
The Executor remained Vader's command ship from before the Battle of Hoth to the Battle of Endor, which saw the ship damaged by Rebel barrage and crashing into the surface of the Death Star II.
All known ships of this class were known to be gone in the aftermath of the Battle of Jakku. This battle saw the Ravager, at this point the last known Super Star Destroyer, crash upside-down on the desert surface of Jakku and be partially buried. The wreckage of the Ravager would be stripped of valuable technology by scavengers for decades to come.
Appearances
Edit
A New Dawn (Mentioned only)
Lost Stars
Star Wars: Darth Vader 2: Vader, Part II
Star Wars: Darth Vader 8: Shadows and Secrets, Part II
Star Wars: Darth Vader 20: End of Games, Part I
Star Wars: Darth Vader 21: End of Games, Part II
Star Wars: Darth Vader 22: End of Games, Part III
Star Wars: Darth Vader 23
Battlefront: Twilight Company (Mentioned only)
"The Levers of Power"—The Rise of the Empire
"Blade Squadron"—Star Wars Insider 149 (Mentioned only)
Star Wars: Shattered Empire, Part I
Aftermath
Aftermath: Life Debt
Star Wars Battlefront
Bloodline (Mentioned only)
Ad blocker interference detected!
Wikia is a free-to-use site that makes money from advertising. We have a modified experience for viewers using ad blockers

Wikia is not accessible if you've made further modifications. Remove the custom ad blocker rule(s) and the page will load as expected.