Help me Obi-Wan Kenobi, You're my only hope!

This Article is in need of serious expanding. Once the state of this article is acceptable, replace this template with Template:Expand.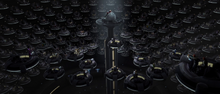 The original Galactic Senate was the governing body of the Galactic Republic.
Thousands of Senators representing worlds from throughout the galaxy participated in Senate sessions inside the Galactic Senate Building. In the years prior to the Clone Wars, the senate's function was hampered by increasing bureaucracy and corrupt practices. During the Clone Wars, Supreme Chancellor Palpatine gained emergency powers at the expense of the Senate. The Senate itself became divided between those that pushed for war and those that wanted to sue for peace with the Confederacy of Independent Systems.
Following the transformation of the Republic into the Galactic Empire, the Senate was renamed the Imperial Senate and its powers decreased further as Regional Governors gained more power over the systems they governed. Right before the Battle of Yavin in the Galactic Civil War, now-Emperor Palpatine disbanded the Senate altogether and made plans to let the Regional Governors rule directly, as well as keep the populations in fear of his new weapon, the Death Star.
When the New Republic was founded by the Alliance to Restore the Republic, a new Galactic Senate was created and reforms were made so as to make it more appealing to former Separatist worlds.
Supreme Chancellors
Edit
Vice Chairs
Edit
Known Senators
Edit
Note: This list is incomplete
Note: This list is incomplete
Representatives
Edit
Note: This list is incomplete
Locations of the Senate Capital
Edit
External Links
Edit
Appearances
Edit