Help me Obi-Wan Kenobi, You're my only hope!

This Article is in need of serious expanding. Once the state of this article is acceptable, replace this template with Template:Expand.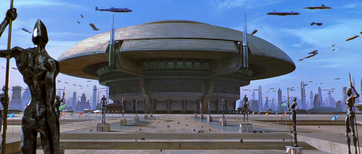 The Galactic Senate Building was a large building on Coruscant that hosted the Senate Meetings in a large room filled with repulsorlift pods. The Chancellors pod was in the middle while others involved in debates could circle around it.
Appearances
Edit
Star Wars: Episode I The Phantom Menace (First appearance)
Sphere of Influence
The Zillo Beast Strikes Back
Hostage Crisis
Hunt for Ziro (Appears in flashback(s))
Senate Spy
The Mandalore Plot (Appears in flashback(s))
Duchess of Mandalore
Corruption (Appears in flashback(s))
Heroes on Both Sides
Pursuit of Peace
Senate Murders
Star Wars: Darth Vader 6: Vader, Part VI (Appears in flashback(s))
Star Wars: Absolutely Everything you need to know