More to add, have you?

It is requested that this article/section of an article be expanded. Once the article contains more information, this template will be removed.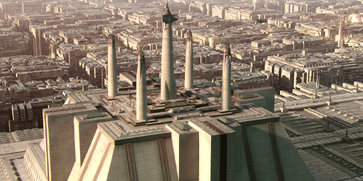 The Imperial Palace was the headquarters of Darth Sidious as Emperor Palpatine during the rule of the Galactic Empire. It was the Jedi Temple during the days of the Galactic Republic but was transformed when the Empire took over and the Jedi were eliminated.
Appearances
Edit
Star Wars: Episode I The Phantom Menace (First appearance)
Star Wars Journeys: The Phantom Menace
The Hidden Enemy (Appears in flashback(s))
Supply Lines
Downfall of a Droid (Indirect mention only)
Lair of Grievous
R2 Come Home
Assassin
Holocron Heist
Children of the Force
Evil Plans (Appears in flashback(s))
Senate Spy
Grievous Intrigue
Lightsaber Lost
Sphere of Influence (Mentioned only)
Witches of the Mist
Overlords (Appears in Newsreel)
The Citadel
Counterattack
Padawan Lost
Wookie Hunt
Gungan Attack
Kidnapped
Deception
Friends and Enemies
The Box
Brothers
Revenge
Revival
A War on Two Fronts
Tipping Points
The Gathering
Secret Weapons
The Lawless
Sabotage
The Jedi Who Knew Too Much
To Catch a Jedi
The Wrong Jedi
Conspiracy
Fugitive (Mentioned only)
Orders
The Rise of Clovis
The Disappeared, Part I
The Lost One
Voices
Destiny (Vision to Yoda)
Sacrifice
Dark Disciple
Star Wars: Kanan 7: First Blood, Part I: The Corridors of Coruscant
Star Wars: Kanan 8: First Blood, Part II: The Towers of the Temple
Star Wars: Kanan 1: The Last Padawan, Part I: Fight (Mentioned only)
Star Wars: Kanan 2: The Last Padawan, Part II: Flight (Mentioned only)
Lords of the Sith
Tarkin (First identified as Imperial Palace)
A New Dawn
Lost Stars
The Rebellion Begins (Mentioned only)
Star Wars Rebels: Spark of Rebellion (Mentioned only)
Rise of the Old Masters (Mentioned only)
Twilight of the Apprentice (Mentioned only)
Star Wars: Darth Vader 1: Vader (Appears in flashback(s))
Star Wars 8: Showdown on the Smuggler's Moon, Part I (Mentioned only as the Jedi Temple)
Star Wars 9: Showdown on the Smuggler's Moon, Part II (Mentioned only as the Jedi Temple)
Star Wars 10: Showdown on the Smuggler's Moon, Part III (Mentioned only)
Star Wars: Darth Vader 16: The Shu-Torun War, Part I
Battlefront: Twilight Company (Mentioned only)
Star Wars: Lando, Part I
Star Wars: Shattered Empire, Part IV (Mentioned only)
Aftermath: Life Debt