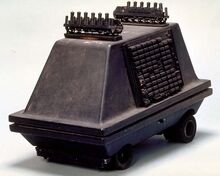 MSE-6 repair droids, or "Mouse Droids", were small box-like droids that rolled along the ground. They were assigned to Bases, Battle Stations and Ships. They were manufactured by the Rebaxan Columni and were most well known for being used by the Galactic Empire as security droids, and to help escort Stormtroopers.
The Republic began using Mouse Droids towards the end of the Clone Wars on their Cruisers and Frigrates and the Confederacy of Independent Systems used them in their bases at the very end of the war such as on Mustafar and in The Citadel.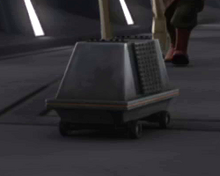 During the Civil War, Mouse Droids were used on Imperial Star Destroyers and on both Death Stars. As well as being repair droids, they were used as Stormtrooper Escorts.
They were used again by the First Order 30 some years after the Battle of Endor.
Appearances
Edit
Counterattack
Point of No Return
Rogue One: A Star Wars Story
Star Wars 1: Skywalker Strikes
Star Wars: Uprising
Ad blocker interference detected!
Wikia is a free-to-use site that makes money from advertising. We have a modified experience for viewers using ad blockers

Wikia is not accessible if you've made further modifications. Remove the custom ad blocker rule(s) and the page will load as expected.