Help me Obi-Wan Kenobi, You're my only hope!

This Article is in need of serious expanding. Once the state of this article is acceptable, replace this template with Template:Expand.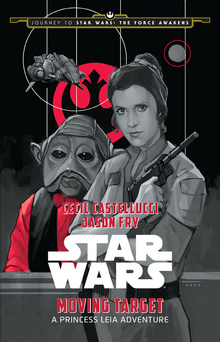 Moving Target: A Princess Leia Adventure is a novel written by Cecil Castellucci and Jason Fry and is set in between Episode V and Episode VI of the Star Wars Saga featuring Princess Leia while Han Solo is in carbonite.
Description
Edit
Princess Leia returns in an all-new adventure!
In this story, set between Star Wars: The Empire Strikes Back andStar Wars: Return of the Jedi, Princess Leia must lead a ragtag group of rebels on a treacherous decoy mission against the evil Galactic Empire.
Characters
Edit
Kidi Aleri (First appearance)
Wedge Antilles (Mentioned only)
Antrot (First appearance)
Aurelant (First appearance)
Aurelant's brother (First appearance)
Volk Aymeric (First appearance)
Lando Calrissian (Mentioned only)
Chewbacca (Mentioned only)
Cracken (First appearance)
Poe Dameron (First mentioned)
Jabba Desilijic Tiure (Mentioned only)
Caluan Ematt (First appearance, simultaneous with Smuggler's Run: A Han Solo & Chewbacca Adventure)
Boba Fett (Mentioned only)
Grimshaw (First mentioned)
Khione (First appearance)
Lokmarcha (First appearance)
Massa (First appearance) (Occasionally misspelled as "Vassa")
Nantz (First appearance)
Nyessa (First appearance)
Bail Organa (Mentioned only)
Breha Organa (Mentioned only)
Sheev Palpatine (Mentioned only)
Han Solo (Mentioned only)
PZ-4CO (First appearance)
Tantor (First appearance)
Wilhuff Tarkin (Mentioned only)
Unidentified four-armed bartender (First mentioned)
Unidentified Rebel lieutenant (Remembrance) (First appearance)
Unidentified Mon Calamari admiral (First appearance)
Darth Vader (Mentioned only)
Veertag (First appearance)
Yoda (Indirect mention only)
Bon Yoth (First appearance)
Ad blocker interference detected!
Wikia is a free-to-use site that makes money from advertising. We have a modified experience for viewers using ad blockers

Wikia is not accessible if you've made further modifications. Remove the custom ad blocker rule(s) and the page will load as expected.