Help me Obi-Wan Kenobi, You're my only hope!

This Article is in need of serious expanding. Once the state of this article is acceptable, replace this template with Template:Expand.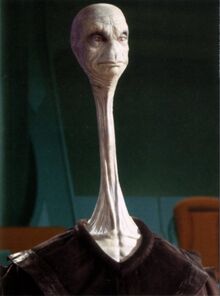 Quermians were a tall long-necked sentient species native to Quermia.
Quermians have two bains, one in their head and a second in their chest.
Information
Edit
Type: Sentient
Classification: Humanoid
Homeworld: Quermia
Notable Quermians: Yarael Poof
Appearances
Edit