More to add, have you?

It is requested that this article/section of an article be expanded. Once the article contains more information, this template will be removed.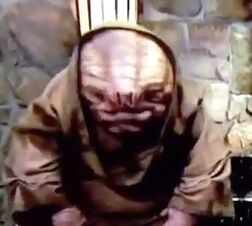 Quiggold was a male Gabdorin and Ithano's first mate. He was one of the Pirates present at Maz Kanata's castle when Han Solo, Chewbacca, Rey, Finn and BB-8 arrive.
Biography
Edit
Quiggold was in Maz Kanata's castle along with Bazine, Emmie, Crimson Corsair and Maz Kanata and many others when Finn, Rey, BB-8, Han Solo and Chewbacca arrived in the Millennium Falcon. Maz Kanata tells Finn that Ithano and Quiggold would get him to the Outer Rim and makes a deal with the pair. He leaves to enter their ship when the First Order attacks and he decides to go with the Millennium Falcon.
Behind the Scenes
Edit
Quiggold was portrayed by Scott Richardson, a real life amputee and expert in prosthetic limbs.
Appearances
Edit
The Crimson Corsair and the Lost Treasure of Count Dooku