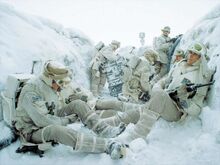 Rebel Troopers from Echo Base, also known as Snow Rebels, unlike the normal Rebel Troopers, were adapted to camouflage with snow and had gear that helped them survive in snowy conditions.
The Troopers fought against AT-AT Walkers, AT-ST Walkers and possibly Snowtroopers while defending Echo Base during the Battle of Hoth.
Appearances
Edit
Note: This list is incomplete
Ad blocker interference detected!
Wikia is a free-to-use site that makes money from advertising. We have a modified experience for viewers using ad blockers

Wikia is not accessible if you've made further modifications. Remove the custom ad blocker rule(s) and the page will load as expected.