Help me Obi-Wan Kenobi, You're my only hope!

This Article is in need of serious expanding. Once the state of this article is acceptable, replace this template with Template:Expand.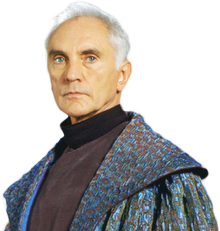 Supreme Chancellor, or High Chancellor was the title used by the head of state in the Galactic Republic senate. During the Blockade of Naboo, Finis Valorum was the Supreme Chancellor who was succeeded by Sheev Palpatine of Naboo, who later transformed the Republic into the Galactic Empire.
Appearances
Edit
Star Wars: Episode I The Phantom Menace (First appearance)
Star Wars Journeys: The Phantom Menace
Cat and Mouse (Mentioned only)
Ambush (Appears in flashback(s))
Rising Malevolence (Appears in hologram)
Shadow of Malevolence (Mentioned only)
Destroy Malevolence (Mentioned only)
Bombad Jedi (Appears in hologram)
Cloak of Darkness (Appears in hologram)
Lair of Grievous (Mentioned only)
Dooku Captured
The Gungan General
Storm Over Ryloth (Appears in flashback(s))
Liberty on Ryloth (Appears in hologram)
Children of the Force
The Zillo Beast (Appears in hologram)
The Zillo Beast Strikes Back
Landing at Point Rain (Appears in hologram)
Lightsaber Lost (Appears in hologram)
Voyage of Temptation
Duchess of Mandalore
Corruption (Appears in flashback(s))
Sphere of Influence
Evil Plans (Appears as a hologram in flashback)
Hostage Crisis
Heroes on Both Sides
Pursuit of Peace
Senate Murders
Nightsisters (Appears in hologram)
Monster (Mentioned only)
Citadel Rescue (Mentioned only)
Mercy Mission (Mentioned only)
Darkness on Umbara (Mentioned only)
Carnage of Krell (Indirect mention only)
A Friend in Need (Mentioned only)
Deception
Friends and Enemies
Crisis on Naboo
Revival
The Lawless
The Jedi Who Knew Too Much
The Wrong Jedi
Conspiracy
Fugitive (Mentioned only)
Orders
An Old Friend
The Rise of Clovis
Crisis at the Heart
The Disappeared, Part I
The Lost One
Dark Disciple (Mentioned only)
Tarkin (Mentioned only)
A New Dawn (Mentioned only)
Empire Day (On Screen only)
Shroud of Darkness (Mentioned only)
Aftermath (Mentioned only)
Ad blocker interference detected!
Wikia is a free-to-use site that makes money from advertising. We have a modified experience for viewers using ad blockers

Wikia is not accessible if you've made further modifications. Remove the custom ad blocker rule(s) and the page will load as expected.