Help me Obi-Wan Kenobi, You're my only hope!

This Article is in need of serious expanding. Once the state of this article is acceptable, replace this template with Template:Expand.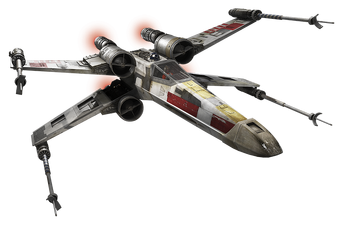 The T-65B X-wing starfighter, often abbreviated as X-Wing, was a starfighter used by the Rebel Alliance.
Description
Edit
When going into battle, the X-wing would split its wings into into an X-shape, each with a blaster cannon on the end.
The T-65B X-wing was the premiere starfighter of the Rebel Alliance. It participated in significant battles of the Galactic Civil War, including the Battle of Yavin, Hoth, Endor as well as the Battle of Jakku, which ended the war.
Variants
Edit
Appearances
Edit
Star Wars: Galactic Defense
Season 4
Lost Stars
Rogue One
Escape from Darth Vader (Appears in final page illustration only)
Epic Yarns: A New Hope (Non-canonical appearance)
The Adventures of Luke Skywalker, Jedi Knight
Star Wars: Battle Pod
Star Wars: Princess Leia, Part I
Heir to the Jedi
The Weapon of a Jedi: A Luke Skywalker Adventure
Star Wars 1: Skywalker Strikes (Cover only)
Star Wars: Darth Vader 1: Vader (Appears in flashback(s))
Star Wars 4: Skywalker Strikes, Part IV
Star Wars 5: Skywalker Strikes, Part V
Star Wars 6: Skywalker Strikes, Part VI
Star Wars 7: From the Journals of Old Ben Kenobi: The Last of His Breed
Star Wars 8: Showdown on the Smugglers' Moon, Part I
Star Wars Battlefront
Star Wars: Commander
Use the Force!
Return of the Jedi Read-Along Storybook and CD
"Blade Squadron"—Star Wars Insider 149–150
Star Wars: Shattered Empire, Part IV
Aftermath
Star Wars: Uprising (Wreckage only)
"Scorched"—Star Wars Insider 165
Bloodline (Indirect mention only)
"All Creatures Great and Small" (Mentioned only)
Ad blocker interference detected!
Wikia is a free-to-use site that makes money from advertising. We have a modified experience for viewers using ad blockers

Wikia is not accessible if you've made further modifications. Remove the custom ad blocker rule(s) and the page will load as expected.