"Tracker Trouble" is the sixth short of the first volume of Star Wars: Forces of Destiny. It is the tenth short of the series overall. It premiered on October 1, 2017. It was written by Jennifer Muro and directed by Brad Rau.
Official description
Edit
Chewie and Rey use their mechanical skill to find a tracker bomb on the Millennium Falcon.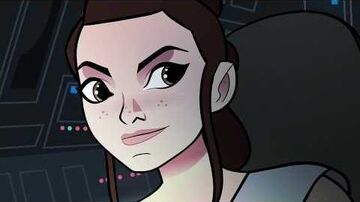 Ad blocker interference detected!
Wikia is a free-to-use site that makes money from advertising. We have a modified experience for viewers using ad blockers

Wikia is not accessible if you've made further modifications. Remove the custom ad blocker rule(s) and the page will load as expected.